My wife and I recently found the Sog Bandit Sling Pack on a trip to Walmart.  We have been searching for a decent smaller pack to make a bug out bag for our two youngest children.  The size of the pack was appealing and the build quality appeared to be decent so we picked one up.  The bag features four compartments, one large open main compartment and four smaller compartments.  The bag has an internal volume of 500 cubic inches and measures 12.1 inches tall x 8.8 inches wide x 3.7 inches deep.
The bag itself is black and has molle on the front, sides and the shoulder strap.  The front of the bag has one larger compartment with elastic to help organize your things and a clip for keys or other items you don't want to loose.  The elastic bands appear to be about the right size to retain handgun magazines, but are a little too large for pens or other slimmer items.
The top accessory compartment has a nice velcro area for patches or name tags.  This pocket also has a small strip of elastic for retention of items and an adjustable bungee cord for retention.
The main compartment expands to approximately 2 inches in width.  The back of the compartment has a decent sized pocket with an elastic retaining strap.
The shoulder strap of the bag is slightly padded with foam, and is lined with mesh.  The strap is stiff and with the minimal padding can be uncomfortable after awhile.  There is a nice pocket on the strap that fits an iPhone 5 with a Lifeproof case, but just barely.  Anything larger like my iPhone 6 Plus would not fit.  The pack also has a few D rings that you can hang items on.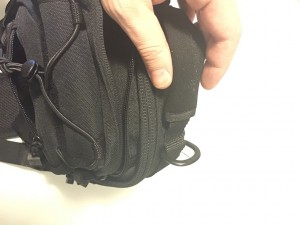 Everything on the bag is securely sewn, including the molle.  The zippers operate easily and the bag has large plastic pull tabs that are easy to handle.  Overall the finish on the bag is mid to poor grade.  There are several tailings left on all of the stitches.  For a MSRP of $21 the finish for the price is not bad.  Is it comparable to something of higher quality and price? No, but for the price it is decent.
Sog Bandit Sling Pack
Features

Durability

Fit

Comfort
Summary
The Sog Bandit Sling Pack is a decent pack for the price, but the size of the pack is awkward for small children. The centered sling strap, while allowing either left or right side carry, causes the bag sit unevenly across the back which leads to weight distribution issues. For small children the pack is too large and too off center to use as a good carry option.
MSRP $44.99
Subscribe to our Newsletter
Subscribe to our newsletter for for the latest information, Giveaway and Contest notifications!